Civil War History and Roster of the First New York Dragoons, page 3
 Lieutenant Colonel Thomas J. Thorp with his wife, Mandana Coleman Thorp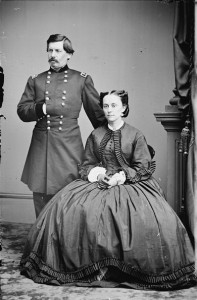 Thomas J. Thorp was a distinguished Captain in the 85th Regiment of the NY Volunteers and also sserved as Colonel of the 1st NY Dragoons.  He was born in Granger, NY in May of 1837 and died July 25th, 1915 in Corvallis, OR.  The Thorp family erected an elegant soldiers monument in Short Tract.  His name as well as the names of all the men of Granger who served, are on the monument.  Found on page 99 – 101 of this book complements of Randy Fletcher.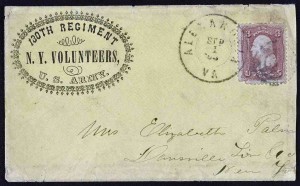 1862 – 1863     –   Civil War envelope for N.Y. Volunteers, 130th Regiment, U.S. Army.  Part of the Liljenquist family collection in the Library of Congress.   This envelope is not in my book.  Couldn't resist adding it to the website.
*
Head Stone for Mandana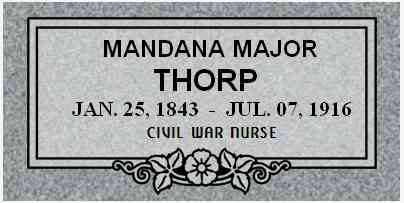 In her day, Mandana Thorp was an accomplished and nationally prominent woman. She recruited soldiers for the Union Army and when they marched off to war, she went with them. She was a wife and mother with a pioneer spirit as she pushed west to Michigan, Arizona Territory, and finally Oregon. She died in Portland nearly a hundred years ago and is buried in an unmarked grave at River View Cemetery. She deserves better and because of renewed interest coinciding with the 150th anniversary of the American Civil War, people are raising money to purchase a headstone for Mrs. Thorp's grave.
In the second year of the Civil War, Gov. Edwin Morgan issued a call for two thousand men to be enlisted from the counties of western New York. The Union League held rallies throughout the region featuring marshal speeches from local orators and brass bands playing from platforms decorated in red white and blue. Miss Mandana Major sang at nearly every one of these events, her melodic voice and patriotic songs urging young men to volunteer. It was at these occasions that Mandana became acquainted with Capt. Thomas Thorp, a dashing Union officer
six years her senior.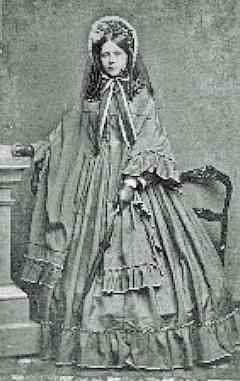 Before the regiment shipped out, the soldiers formed in a hollow square on the banks of the Genesee River to witness the marriage of Lt. Col. Thorp to nineteen year old Mandana Major. The wedding was performed September 6, 1862 by Rev. Joel Wakeman of Almond who was also the captain of Company H. The Thorp's wedding photograph shows a seated bride with a seemingly sad face: Her bridegroom would depart for the war in the morning. Mrs. Thorp was not content to remain at home and she made plans to join the regiment in the field. She made her way to the front lines and rendered service as a volunteer nurse providing comfort to the sick and tending wounded in camp and hospital the duration of the war. Gen. Thorp died in 1915 and was buried in Crystal Lake Cemetery in Corvallis. Following her husband's death, the U.S. Congress, in appreciation for the Thorps Civil War service, passed a bill awarding Mrs. Thorp a pension of $30 per month. Mandana Thorp moved to Portland to live with her daughter Bessie but outlived her husband by less than a year. She passed away on July 7, 1916 at the age of seventy-three and was buried at River View Cemetery. Her grave remains unmarked nearly a century later. Mandana Coleman Major Thorp was a woman ahead of her time. She deserves the respect of a marked grave. We are about half way to our $300 goal. If you can contribute to honor this great American woman, please contact Randy Fletcher at cwtrooper1863@comcast.net Picture of Lieutenant Colonel Thomas J. Thorp with wife Mandana Coleman Thorp may be seen at http://www.FirstNewYorkDragoons.com page 5.
We raised enough money and the headstone has been delivered! All we need now is a dry weekend to get it installed. Realistically, we plan to have it done sometime after the first of the year but before Memorial Day. Randy
Continue to Civil War Pictures