World War II
World War II Pictures
September 1, 1939:  World War II begins.  Nazi Germany invades Poland.  Also known as the September Campaign.
September 2, 1939:  A german aircraft bombed a rail station, which guarded civilian refugees.  The blast killed 111 people.  His goal was to incarcerate or annihilate every enemy of Nazi Germany.

The word 'Reich' means 'kingdom.'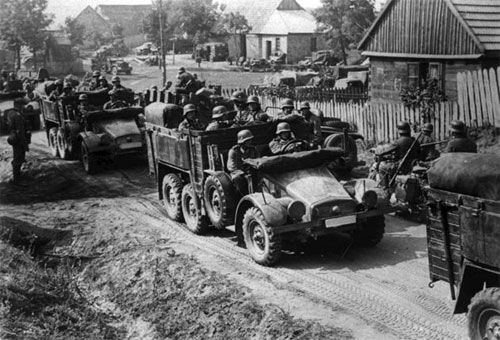 The German invasion of Poland
*
September 3, 1939:  55 polish peasants, including a child, were lined up and shot in the town of Truskolasy.
September 3, 1939:  Great Britain and France declare war on Germany.
*
October 8, 1939:  Germany and the Soviet Union divided Poland between them selves.
1940:  The Nazis began establishing ghettos for the Polish Jews. (about  3 million).  The crowded ghettos lacked food, water and sanitary facilities.  Many died of starvation.   From the ghetto, they were collected and transported to the death camps.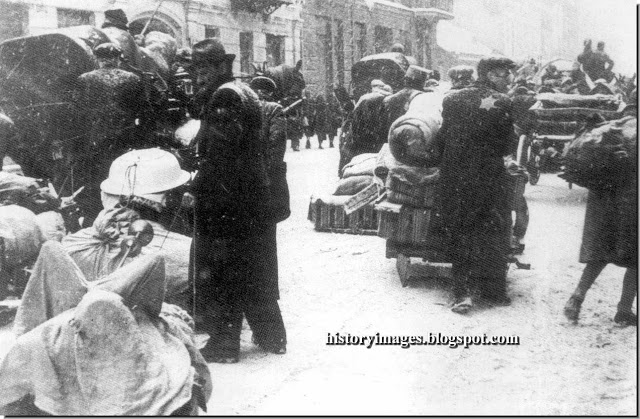 Forced resettlement of Jews in urban ghetto at Lodz.  March 1940
*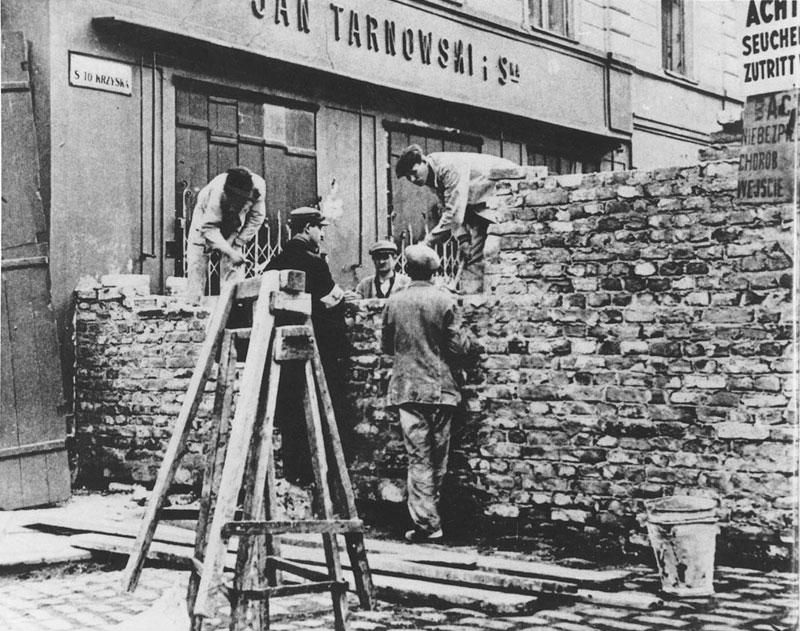 Walling-off Swietokrzyska Street seen from Marszalkowska Street on the 'Aryan side'. In the back 'Magazyn Blawatny' store of Jan Tarnowski & Co. at Marszalkowska 133 street.  This is not the final location of the wall on Swietokrzyska street according to book, "Getto Warszawskie".  In 1941 the wall was a block farther between Zielona and Bagno streets.  Source: United States Holocaust Memorial Museum and Wikipedia.
Jewish Ghetto Poland
April 9 to June 9, 1940:  Germany invades Denmark and Norway.  The shortest campaign of WW II. It took the Germans only 6 hours to subdue Denmark.
German Invasion of Denmark 1940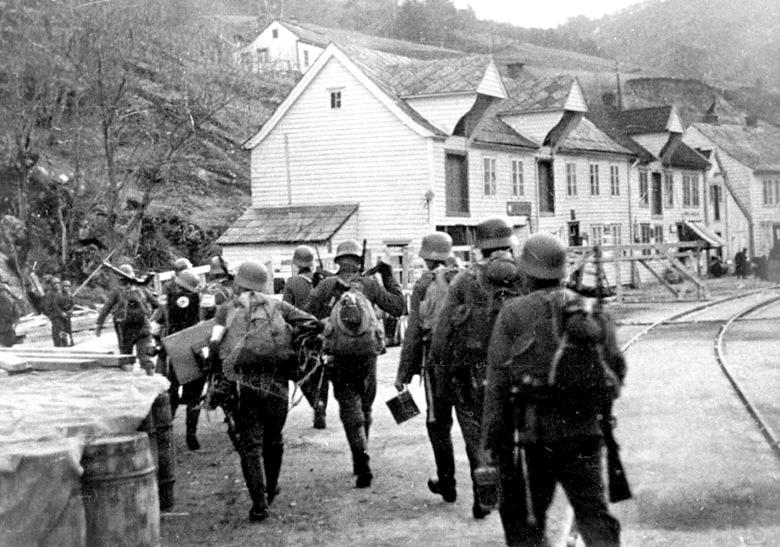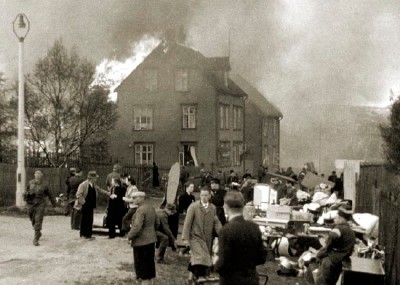 *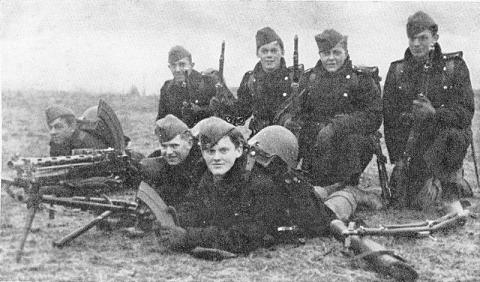 Danish troops the morning of the German invasion in 1940.  Two of the young men in this photowere killed later that day.
May 10 to June 22 1940:  Germany uses quick strikes called blitzkrieg and takes over the Netherlands, Belgium and northern France.  Blitzkrieg is the German word for 'lightning war'.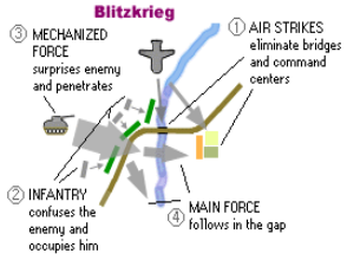 May 20, 1940:  German forces reach the British Channel.
May 27, 1940:  Evacuation of British and French forces to Britain at Dunkirk begins.
June 4, 1940:  The evacuation at Dunkirk ends.  338,000 troops were rescued.  Churchill declares that Britain will never surrender.
May 30, 1940:  Winston Churchill becomes leader of the British government.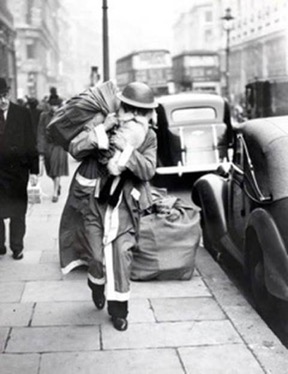 Santa with a helmet delivering presents during the London Blitz, 1940.
June 9, 1940:  Norway surrenders.
June 10, 1940:  Italy enters the war as a member of the Axis powers.
June 14, German troops march into Paris.

June 14, German troops march into Paris
June 18, 1940:  Russia invades LIthuania, Latvia, and Estonia.
June 22, 1940:  France surrenders to Germany.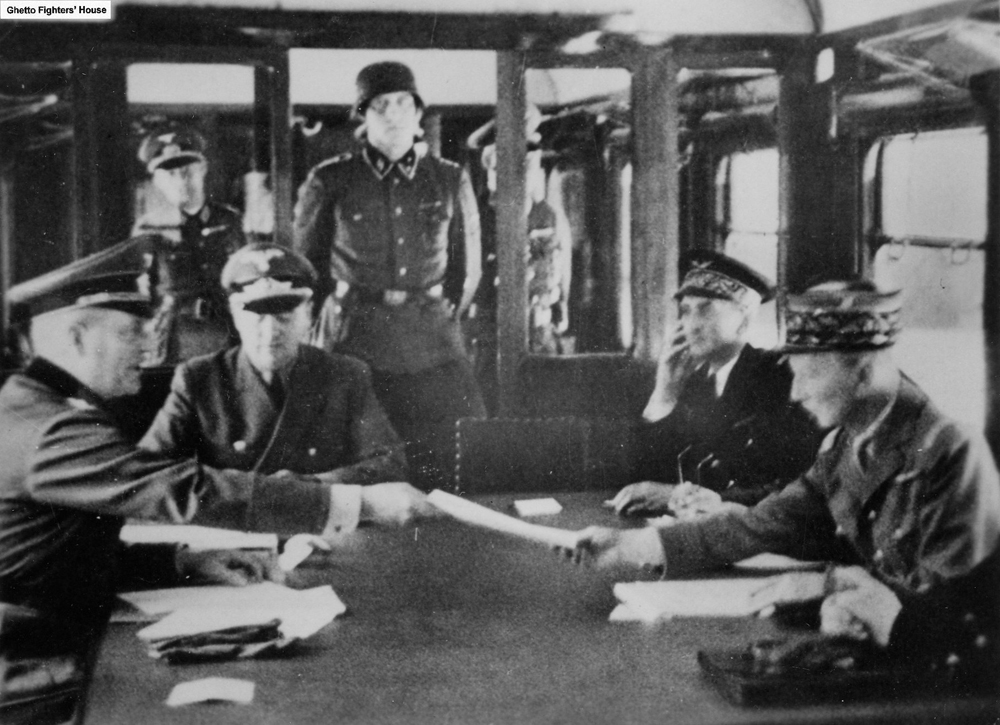 Wilhelm Keitel accepting the French surrender from Charles Huntzinger, Compiegne, France.
June 27, 1940:  Russia annexes the eastern regions of Romania.
July 1, 1940:  Germany invades the British Channel islands.
July 10, 1940:  The Battle of Britain air campaign begins.

August 8, 1940:  The Luftwaffe begins to bomb British early warning radars.  London sky following a bombing and dogfight between British and German airplanes.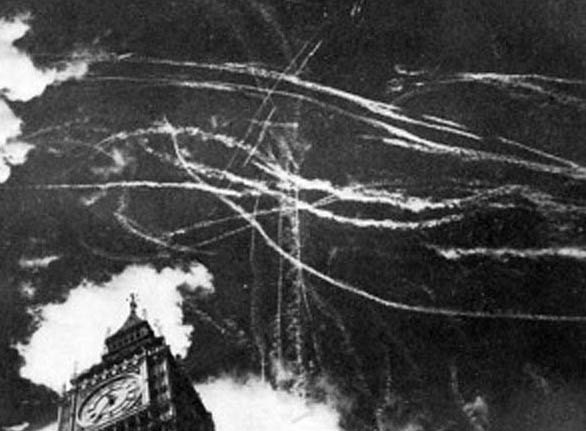 August 25, 1940:  British night bombers bomb Berlin.
September 3, 1940:  Hitler changes the Luftwafe's objective from destroying the Royal Air Force to bombing London.  This allows the R.A.F to recover and win the Battle of Britain.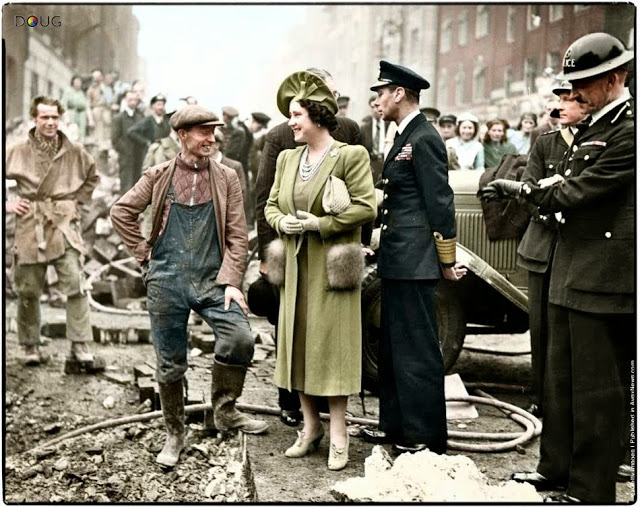 King George VI and Queen Elizabeth visiting bomb damaged streets in the East End of London on the 18th of October 1940. (Color by Doug)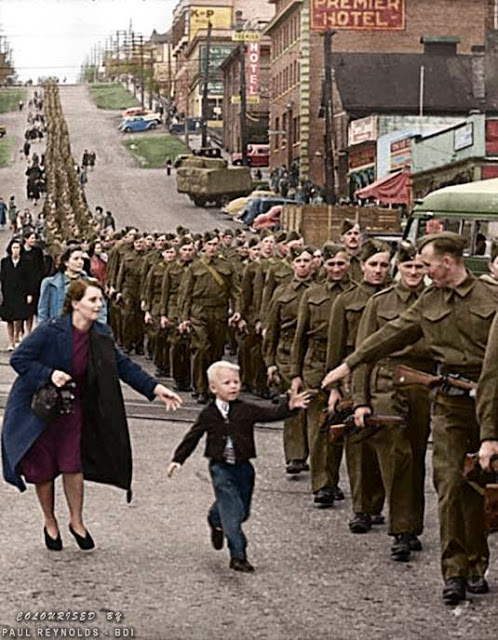 On October 1, 1940, Private Jack Bernard and other Volunteers in the British Columbia Regiment (Duke of Connaught's Own rifles) were marching smartly down Eight street in New Westminster to board a ship and sail off to war.  suddenly, Bernard's five-year-old son broke free of his mother's grasp and sprinted into the military formation to take his smiling father's hand.  In that instant, an alert Vancouber Daily Province photographer, Claude Dettloff, snapped the shutter.  Soon, his unforgettable image of little Warren "Whitey" Bernard was being printed by leading publications throughout North America.  It was later used in Canada's war bond drives with the plea, "help bring my Daddy home."  Jack Bernard survived the war and was reunited with his son in 1945.  (Claude Dettloff, photographer – city of Vancouver archives online database.  Colorized by Paul Reynolds.  historic Military Photo Colourisations).
*
Italy invades British-held Egypt from Libya, the North African campaign begins.
March 3, 1941:  The Jewish ghetto in Krakow was created under Nazi occupation.  It was situated next to Zablocie industrial district with many industrial plants, including Schindler's factory.  It was adjoining the Zablocie train station and near the Plaszow concentration camp.  Dr. otto Wachter was the district gubernator.
The average food ration was limited to 186 calories, 1,669 calories for gentile Poles and 2,614 calories for Germans. Source:  BlogSpot 
I used to work with a ghetto survivor.  He only spoke with me about it once. Only my friend and his aunt remained alive.  They ate bugs, rodents anything they could find.  It explained to me why, when we would go to lunch, he would get two hamburgers.  He would eat one and 'save' one, even though dinner would be waiting for him when arrived home.
Oskar Schindler's Factory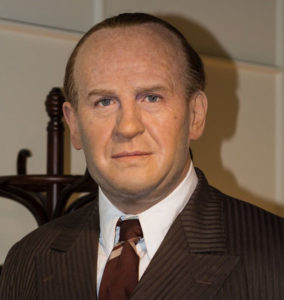 Oskar Schindler was a German industrialist, spy and member of the Nazi Party who is credited with saving the lives of 1,200 Jews during the Holocaust by employing them in his enamelware and ammunitions factories, which were located in occupied Poland and the Protectorate of Bohemia and Moravia.  He is the subject of the 1982 novel Shindler's Ark and the subsequent 1993 film Schindler's List.  Source:  copied from Wikipedia
Words of Oskar Schindler, "The persecution of Jews in occupied Poland meant that we could see horror emerging gradually in many ways.  In 1939, they were forced to wear Jewish stars, and people were heerded and shut up into ghettos.  Then in the years '41 and '42 there was plenty of public evidence of pure sadism.  With people behaving like pigs, I felt the Jews were being destroyed.  I had to help them.  There was no choice."  Source:  LikeSuccess online.
*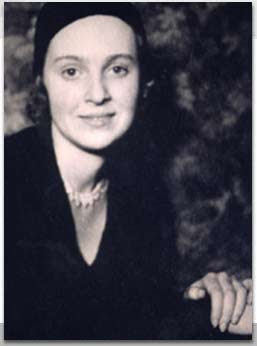 Marie Vaillant-Couturier was born Marie-Claude Vogel in November 1912.  She was a photo Journalist with the nickname of, 'the lady in rolleiflex..  She was a member of the Association des Ecrivains et Artistes Revolutionnaries and the Mouvement Jeunes communists de France, the Communist Youth Movement of France and the Union of the Girls of France.
Maire produced clandestine publications and leaflets.  In February 9, 1942, a trap was successfully set for her by the Marshal Phelippe Petains police.  She was interned at the Depot de la Prefecture.   She was moved  around from place to place before arriving in Auschwitz.  She was there 18 months witnessing the genocide of Jews and Gypsies.  She took part in the international clandestine resistance committee of the camp.  In August 1944, she was transferred to Ravensbruck concentration camp.  After Ravensbruck was liberated in 1945 by the Red army, she returned toFrance and devoted herself the patients.  Source:  Wikipedia
*
Other Heroes are:  Emilie Schindler, Sir Nicholas Winton, Albert Goering, Miep Gies, Varran Fry, Kurt Gerstien, Wilm Hosenfield, and Berthold Beitz.  If there are others you would like added, please let me know in the comment box below.   Also, I  welcome stories about the people listed above and of course, correct me where you see a mistake.
*

Irena Sender d. 12 May 2008, age 98 Warsaw
During  WWII, Irena Sender got permission to work in the Warsaw ghetto as a Plumber/Sewer specialist.  She smuggled Jewish infants out in the bottom of the tool box she carried.  She also carried a burlap sack in the back of her truck for larger kids.  Irena kept a dog in the back that she trained to bark when the Nazi soldiers let her in and out of the ghetto.  The soldiers wanted nothing to do with the dog and the barking covered the kids/infants noises.  She managed to smuggle out and save 2500 kids/infants.  Ultimately, she was caught.  The Nazis broke both of her legs and arms and beat her severely.  She kept aa record of the names of all the kids in a glass jar which she buried under a tree I her back yard.  After the war, she tried to locate any parents that may have survived and tried to reunite the families.  Most had been gassed.  The  other kids were placed into foster family homes or adopted.  In 2007 Irena was up for the Nobel Peace Prize.  She was not selected.  Al gore won for a slide shop on Global Warming.      Source:  email friends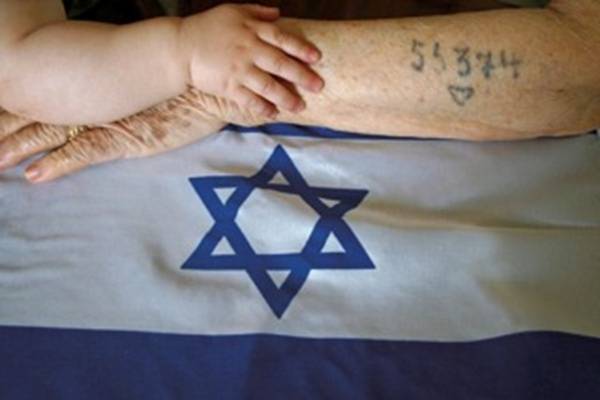 *
June 22, 1941:  Germany and the Axis Powers attack Russia with over 4 million troops.
June 1941:  Four mobile killing groups were formed called Einsatzgruppen.  These groups went to town by town and marched the Jews to huge pit dug earlier, stripped them, lined them up, and shot them with automatic weapons.  In the Babi Yar massacre 30,000-35,000 Jews were killed in two days time.  The Einsatzgruppen conducted massmurder in eastern Poland, Estonia, Lithuania and Latvia.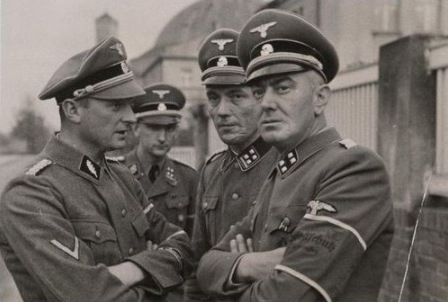 Selbstschutz leaders from the Valley of Death in Bydgoszcz (Bromberg).  from left:  Ludolf von Alvensleben, Erich Spaarmann  and Hans Kolzow