Civil War Pictures
 Photograph of Walter G. Jones, Pvt., 8th New York Cavalry, Co. C., U.S.A.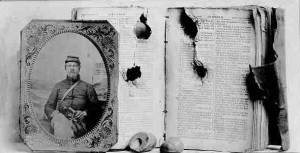 New Testament with bullet holes and two bullets lodged in the book
This picture was found in the Library of Congress.  Photographed between 1861 and 1865     Written below the picture was, 'I am not a Hobson,  Dewey, a Schley, nor a Sampson, but I was a High Private in Co. Cl, 8th N. Y. cavalry and carried this little Testament in my blouse pocket which, in two battles,saved my life from bullets, as represented in the above photo.  The bullet in the upper corner was shot at me at Cedar Creek, Va., october 19, 1864.  The bullet in the centre crashed into the Testament during the battle of Appomattox (better know as Lee's surrender).  April 8th and 9th, 1865.'   Signed Walter G. Jones. Below that it says McDonough, N. Y.
Sorry, I couldn't get the picture larger. 
*
South Carolina Men in Blue
This is a copy of a newspaper clipping from the Library of Congress.  I couldn't get the print clear enough to read so typing it here:  These officers of the Flying Artillery we see here entering the Confederate service at Sullivan's Island, Charleston Harbor, still wearing of their volunteer organization.  It was one of the state militia companies so extensively organized previous to the war.  South Carolina was particularly active in this line.  After the secesion of the papers were full of notices for various military companies to assemble for drill or for the distribution of arms under 2 of this group is Allen J. Green, then Captain of the Columbia Flying Artillery (later a Major in the No. 4 is W. K. Bachman, then a 4th Lieutenant, later Captain in the German Volunteers, a state infantry entered the artillery service and achieved renown as Bachman's Battery.  No 3 is Wilmot D. de Saussure; then Lieutenant and later Captain of another company.  After 1863, when the confederate resources  were __ soldiers were not ashamed to wear the blue clothing brought in by the blockade runners.
*
General George B. McClellan, officer of the Federal Army,
and his wife, Ellen Mary Marcy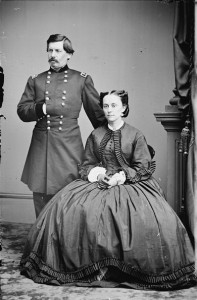 *
Please help identify this couple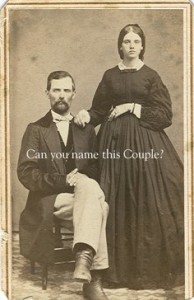 This picture was included in my Haight family pictures.  The Haights lived in New York state.  The stamp on the back is dated 1865.  This could mean the young man may have been the Union Army during the American Civil War.
Some of the sir names in the Haight family are:  Beeman, Crane, Fowler, Snow, Carpenter and Layton.  Please leave your thoughts in the comment box at the bottom of this page.
*
---
Unfortunally, I was unable to get the drummer boys in the rotation on the first page enlarged for this picture page.  They are the Drum corps, 8th New York State Militia, Arlington, Va., June, 1861.
---
Poster 69X54 was created by W.W.H. Davis, Doylestown, PA (1863)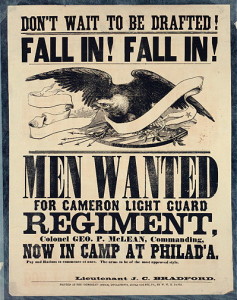 Source: Civil War Treasures from the New-York Historical Society
*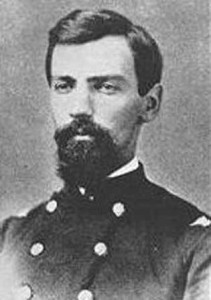 Bv't. Brig. General Union Army, Rufus R. Dawes (July 4, 1838 – August 2, 1899)
Grand-grandson of William Dawes.  Father of Charles G. Dawes who served as Vice President of the United States as well as two daughters.  He was in the Union Army during the Civil War.  He took part in the Iron Brigade during Battle of Gettysburg.  Pryor to the war he was an author and congressman.
 *
 The Old Stone House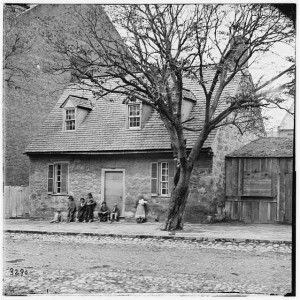 Washington's Headquarters, 1916 East Main Street, Richmond VA.  Photo taken between April – June 1865.  Source:  Library of congress.
*

 *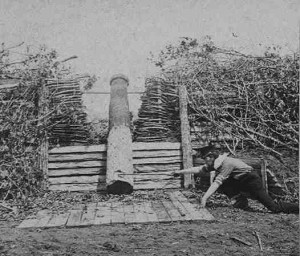 Quaker guns, Centreville  ca. 1861 – 1865.
Man pretending to light the fuse of a log made to look like a cannon to conceal shortage of defence guns.
*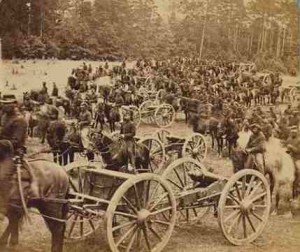 Gibson's horse battery (C. 3d U.S. Art'y.) near Fair Oaks, VA June 1862.  Civil War Photograph collection (Library of Congress).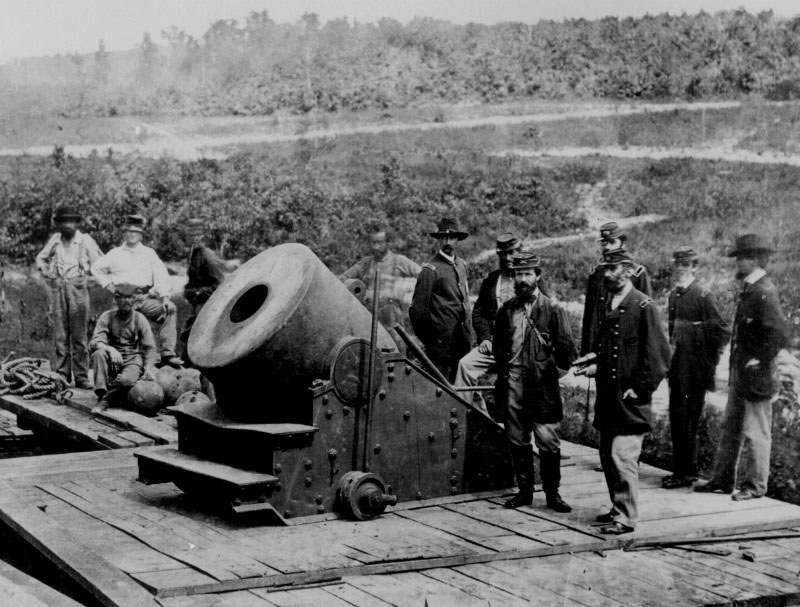 Ulysses S. Grant standing in front of a tent in cold Harbor Virginia.  June 1862
*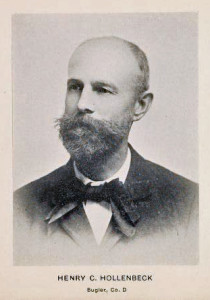 Henry c. Hollenbeck; First New York Dragoons, Bugler Co. D
*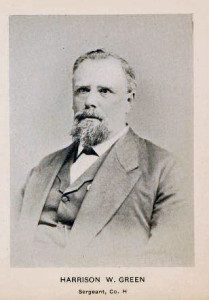 Harrison W. Green; First New York Dragoons; Sergeant, Co. H
*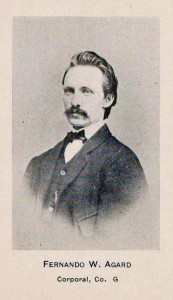 Fernando W. Agard; First New York Dragoons; Corporal, Co. G
b. 12 December 1842, gustavus, Trumbull, Ohio.  d. 14 March 1900, Bedford, Taylor Iowwa.  Married Emma Jane Rhoads 13 april 1899, Bedford, Taylor Iowa.  Father Friend William ; b. about 1801, Morris, Litchfield,CT k. 6 april 1863.  Grand Parents:  Samuel Agard 1779 – 1842 & Adah  'Ada' Griswold 1780 – 1869.  Source:  Ancestry.com.
*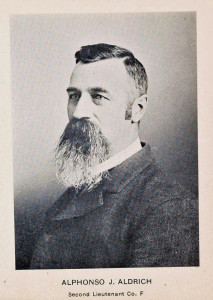 Alphonso J. Aldrich; First New York Dragoons; Second Lieutenant, Co. F
*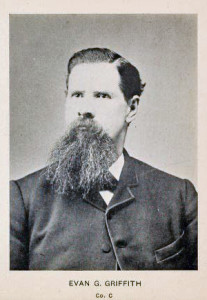 Evan G. Griffith; First New York Dragoons; Farrier, Co. C
*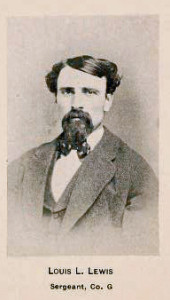 Louis L. Lewis; First New York Dragoons; Sergeant, Co. G
*

William Maring, First New York Dragoons, Private, Co. G.  Picture submitted by Jason Krausz who has him as a Corporal.
*